Download PDF
Journal Article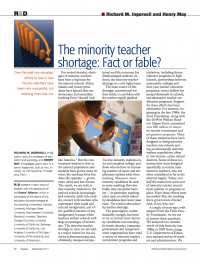 This brief 4-page summary reports on the status of the minority teacher shortage. The study empirically grounds the debate over minority teacher shortages by examining national data on trends in the recruitment, employment and retention of minority teachers. The data show that efforts over recent decades to recruit more minority teachers, and place them in disadvantaged schools, have been very successful. But, these efforts have also been undermined because minority teachers have lower retention — largely because of poor working conditions in their schools.
Citation: Ingersoll, R., & May, H. (2011, September). The minority teacher shortage: Fact or fable? Phi Delta Kappan, 93(1), 62-65.
This article is a summary of the extensive report, Recruitment, Retention and the Minority Teacher Shortage, written by Richard Ingersoll and Henry May and published by CPRE.
Publisher
Phi Delta Kappan Magazine
Project
---
Related Products